Ibiza Swim by Ruth Osborn

Ibiza swim was launched by Ruth Osborn in 2007 - fast forward to today and she has earned a reputation as one of the islandís leading swimming instructors and trainers.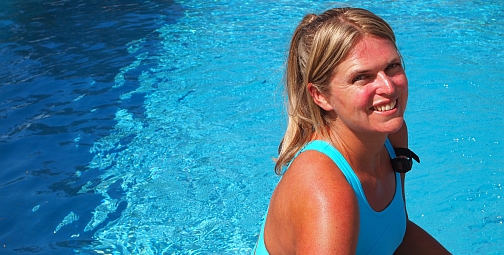 Ibiza Swim offers lesions and coaching for swimmers and aspiring swimmers of all ages and abilities. Ruth is fully qualified and insured - with her background and experience she adapts swimming classes to her clientís requirements - from babies learning to swim and groups of friends wanting to keep fit on their holidays, to locals wanting to perfect their strokes and triathletes in training.


Tessa Fisher recently joined Ibiza swim and she focuses on baby swimming and aqua yoga. Tessa believes that a lifelong love of water and enjoyment of swimming are best generated by a confident and loving handling of babies in water.





After swimming sessions with Ruth and Tessa, our Hotique Ibiza toddlers went from being wary of the water to jumping in and swimming laps. Our team of adults enjoyed keeping fit with aqua yoga, perfecting their strokes as well as learning some drills to continue to keep fit as part of a daily routine.







Hotique loves...


The Ibiza swim classes for children 3 years and up

The stroke perfection classes for adults

Aqua yoga for groups of friends on holiday wanting to keep fit

Booking
To book your swimming sessions in the luxury of your villa pool:
Email hola@ibizaswim.com
Call +34 657 102 948




Ruth Osborn
Ruth has been on the podium for most open water events in Ibiza, she trains the Ibiza Masters and Club Natacion Portus in the summer and surfs in Morocco in the winter. She is a fully qualified and insured UK Amateur Swimming Association swim instructor and holds the Royal Lifesaving Society National Rescue Test Certificate for Teachers and Coaches as well as a current HSE approved certificate in First Aid. She is a REPs Level 3 qualified Advanced Fitness Instructor with a CYQ Level 3 certificate in Nutrition and Weight Management and a European Register of Exercise Professionals registered and insured personal trainer. She is one of In:Spaís team of prestigious trainers.

Tessa Fisher
Tessa is a fully qualified and insured swim teacher and special needs instructor with the Swim Teachers Association and has completed an STA course in snorkelling. She has been teaching swimming in her home country of Ireland since 2005, holds the Royal Lifesaving Society National Pool Lifeguard qualification and is First Aid qualified. For the last six years Tessa has been teaching parent and baby swim classes and baby massage under the Birth light umbrella. In addition to this her qualification in Birthlight Aqua Yoga has added another complimentary dimension to her teaching repertoire.



Like our Facebook page for all the latest boutique hotel offers and the best places to visit in Ibiza