Romantic cliff

top

private outdoor hot tubs with

dramatic views of the Caldera


Located on the

outskirts

of the pretty village,

Oia

, Ikies traditional houses is perched on cliff edge above the dark blue sea 1000 feet below. The views are breathtaking, with whitewashed stone

, mosaic tiles

and a

dramatic

vista across the Caldera -

m

ost rooms have a private terrace from which to relax and enjoy the views

and

7 of the 11 rooms have private outdoor Jacuzzi's, built into the stone, which is the most romantic way to e

njoy

the sunset - complete with a glass of Santorini wine.

Rooms


The hotel

features

11

individually designed houses,

from the smaller Studio and Maisonette rooms to the larger Superior Suites. The Superior Suites and Honeymoon Suite are the rooms to go for as they all have a private outdoor hot tub and private terrace with outdoor day-bed.

The houses

are them

ed such as the

Captain's House and the Carpenter

'

s House and they are immaculately presented with white and pastel interior colours and colourful mosaic tiled bathrooms.

Food & Breakfast


Continental b

reakfast is served

on each house's private balcony or terrace.

Breakfast includes a fruit platter, basket of bread and croissants, ham, cheese, cereal.

Choose a

snack or lunch from the ligh

t

fare menu wherever it suits you throughout the day e.g.: Ciabatta with mozzarella and tomato; Spinach and Rocket salad with Parmesan shavings

,

Greek Salad etc.

Facilities & Technology


Swimming pool, air conditioning, fully equipped kitchenettes.

Wireless internet is available

i

n the

suites.

Other facilities include air conditioning, CD players,

f

lat screen

TVs and DVDs, direct dialled phones, safe

box

, bathrobes and slippers.

Ideal If You Want

Beautifully designed & decorated rooms

Romantic hotel

Private outdoor Jacuzzi/ hot tub

Caldera views from your private terrace

Easy access to

Oia

and the cliff-top walks

Excellent value for money

Hotique Highlights

Breathtaking views

Sunset

from your private hot tub

Relaxed atmosphere &

friendly

staff

Breakfast facing the Caldera

High standard of accommodation

Sounds -

Jacuzzi bubbling

Smells -

Cedar

shower gel (Organic Greek Korres products)
Sights - Whitewashed stone,

sparkling mosaic tiles, sunset views

Touch -

Tiles underfoot

Rooms to Choose
Honeymoon Suite: The Winemaker's House with secluded private terrace with private outdoor Jacuzzi and outdoor futon bed. Candles, flowers and Champagne breakfast.

Superior Suites: Captain's House; Antiquarian's house and Carpenter's House. Bedroom plus living area with sofas that can be used as single beds. (Up to 4 guests, 6 in one). Private terrace with private outdoor Jacuzzi and outdoor futon bed.

Or, the luxurious choice for larger parties - The Collector's House (Villa) with private spa area, steam room and indoor/outdoor hot tub perched on the edge of the terrace overlooking the Caldera. Also features large living and dining area, 2 double bedrooms each with private bathrooms, with beautiful views.

Maisonettes are on 2 levels - loft bedroom upstairs and living area with sofas below.

Hotique Verdict
Ikies traditional houses offers a truly romantic setting with stunning views and outdoor hot tubs from which to enjoy sunsets. The rooms are immaculately presented and Ikies is a beautiful place to discover what makes Santorini so special. Highly Recommended.




View IKIES Traditional Houses photos

Make a booking enquiry for IKIES Traditional Houses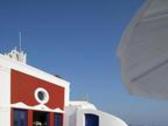 Hotique Rating


5/

5
.....................
Private

Jacuzzi's




5/5


Bathing bliss


4

/5
Decor & Design


5/

5
Breakfast


3.5/

5
Food

- lunch & snacks




5/

5
Facilities


3/

5
Location

& Views




5/

5
.....................
M

ost Romantic Sunset Setting


.

....................



Not for those who want:
-

Large Communal

Swimming

Pool


- Large hotel
-

Social Areas


- No

stairs


.....................
Alternative Hotels
Perivolas

Traditional Houses

- Larger communal pool, but few private hot tubs

.