Romantic cliff edge hotel with dramatic views of the Caldera


The

Tsitouras Collection is lovingly run by Eleni Tsitouras, the daughter of the collector

Dimitris

Tsitouras, whom the hotel is named after.

Located in Firastefani, The Tsitouras Collection is perched on cliff edge above the dark blue sea 1000 feet below. The views are simply breathtaking, with whitewashed stone and a sweeping picture postcard vista across the Caldera - the Maria Callas Terrace is the perfect place to relax and enjoy sunset cocktails as the sun slowly slips below the horizon.

Rooms


The hotel

features 5 individually designed houses, and each one features artwork and collectors items from the famous collector

Dimitris

Tsitouras. The building dates from 1780, and was renovated in 1985 before being converted into a luxury hotel. The rooms are decorated in light pastel colours and are unashamedly grand and imposing - each room also features specially collected artworks.

All rooms have showers, which is common in most Santorini hotels to preserve water on the island.

Food & Breakfast
Breakfast is served anytime - soak up the views in the morning light before the afternoon sun takes over (Breakfast includes a fruit platter, basket of bread and croissants, ham, cheese, cereal, eggs etc.

You can also order eggs and toast

from the

cooked menu.

In the evening, r

equest private dining on the terrace or take snack wherever it suits you throughout the day.



Facilities & Technology
There is a newly developed swimming pool on the Maria Callas Terrace (as well as the private pool at the Tsitouras Collection

villa

).

Private boat excursions can also be arranged.



Wireless internet is available in rooms as well as in the outdoor areas. Other facilities include

free

airport

transfers, air conditioning, CD players with owner's CD collection, TVs and DVDs (extensive DVD library), direct dialled phones, safety deposit boxes

.

Ideal If You Want

Hotique Highlights

Breathtaking views

Sunset cocktails on the terrace

Relaxed atmosphere & attentive staff

Breakfast facing the Caldera

The Senses

Rooms to Choose
House of Nureyev - includes a private balcony with flowing white curtains for maximum privacy - sleeps 2.

Or, the luxurious choice for larger parties - Tsitouras Collection Villa with private pool, 3 bedrooms and uninterrupted views.

Hotique Verdict
Stunning views with traditional Greek style located close to the bustling town of Fira. For larger groups, the Tsitouras Collection Villa has uninterrupted views and private pool to enjoy them from.




View Tsitouras Collection photos

Make a booking enquiry for Tsitouras Collection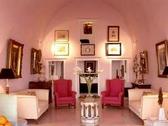 Hotique Rating
4/5
.....................
Pool Area


4/5


Private

Villa

Pool


5/5


Bathing bliss


4/

5
Decor & Design
4/5
Breakfast


4/

5


Food




4

/5
Facilities


4/

5
Location


5/

5
.....................

Not for those who want:
- Modern hotel
- Large hotel
- No

stairs



.....................

Alternative Hotels
Vedema Resort Santorini - Luxury resort style hotel with country views.